Spring Cleaning Begins With Carpet Cleaning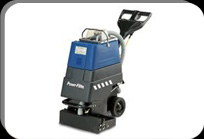 When preventive maintenance and routine vacuuming no longer restore the luster to your carpet, it's time to spring clean it. Vacuuming removes some surface soil, but it won't remove the stubborn dirt and stains. Unless you remove the dirt and soil from your carpet on a regular basis, your carpet will end up permanently stained.
How often you clean your carpet depends upon the cleaning method, the type of carpet pile yarn, the type of dirt and soil, the amount of foot traffic, the carpet pattern and color, and your expectations of how good you want your carpet to look.
In years past, do-it-yourself carpet cleaning usually meant using a steam cleaner. Homeowners hired professional carpet cleaning services because they didn't want to hassle with wet carpets and carpet shrinkage. But today, that's changed. Now you can rent the same equipment the professionals use, and get the same results without the sopping wet carpets and carpet shrinkage.
While there are many approaches to carpet cleaning (carpet mopping, wet foam and dry powder), the most effective is the hot water extraction method.
Hot water extraction is the method many professionals use. It injects a mixture of water and special defoamer cleaning solution into the carpet and then immediately retrieves the liquid solution... plus any soil, dirt and carpet residue. There are no brushes or bearings to wear or tear carpet pile. The result is a professionally cleaned carpet with restored pile, minimum drying time and sub-soil removed for less wear and longer carpet life.
No special skill or previous experience is required to operate the machine, but you should ask the rental specialist to acquaint you with the machine's operation, benefits and care.
Other carpet cleaning methods include:
Carpet mopping is a method in which you mop just the carpet surface with a shampoo using a carpet mop (dust mop) and a scrub brush. It can help keep heavily trafficked areas looking good between regular shampooing, but it won't remove much dirt or soil, and it's not recommended for synthetic carpet fibers. If you mop too often, your carpet will get "sticky" and attract dirt.
Wet foaming uses a specially equipped single-disk floor machine and wet pick-up vacuum to clean a carpet. This method removes dirt, soil and most tough stains but requires two very careful operators, especially if your carpet backing, or cushions, contain natural fibers. You can damage the pile yarn if you let the floor machine run too long in one place, or if you let the carpet get too wet.
Dry foaming uses very little water to clean a carpet. It dries quickly - can be walked on within 1 hr - and removes dirt and some stains from carpet fibers. The single disadvantage to dry foaming is that it leaves a shampoo residue, or film, on the clean carpet which can attract dirt.
Dry powder shampooing uses a powder treated with chemicals to clean a carpet, using no water at all. Just sprinkle powder on your carpet and work it into the pile with your hand or machine powered brush. Since it requires no water, you can use the room while you clean. If you use this method too often, powder buildup can occur, increasing the rate your carpet gets dirty.