1955 GMC Cannolball, AKA James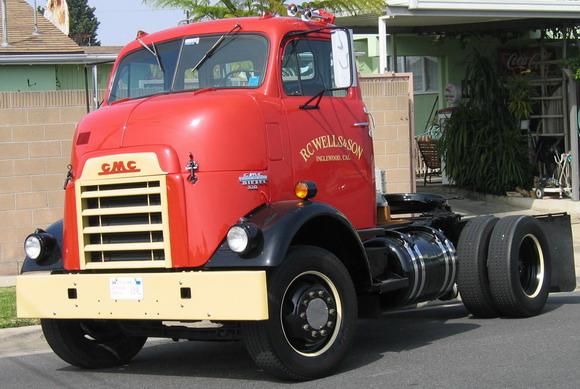 ---
1955 GMC Model 920
---
This 1955 GMC highway tractor is an example of GMC'S largest single axle trucks. This body style was introduced in the early 1950's and was continued until 1959. Production was never large.
The TV Series 'Cannonball', starring William Bendix, used a similar truck in the show, hence the model acquired the nickname 'Cannonball'. This was the first year that GMC produced a heavy truck with an automatic transmission. Two 4-speed hydromatic units from the medium truck line were stacked one on top of the other and the power input routed in series through them. This resulted in 7 forward speeds(1-1, 1-2, 2-1, 2-2, etc.). The last two ranges are overdrives. The truck was also equipped with an auxiliary transmission. In the case of this truck it has two ranges - low and direct, but a 3-speed unit was also available. The auxiliary transmission is only used to start heavy loads and the shift into direct drive was made at 18 MPH or less.
Currently the hydromatics have been replaced by a Fuller 13-speed transmission. Sometimes the original hydros are displayed on the back of the truck.
One of the features I find interesting are the seats that fold to the ceiling and the accordion floor boards allowing access to the engine.
This truck was purchased new by Great Southern Express of Florida and remained on the southeast coast for 4 or 5 years.
The owner of Great Southern, Jim Ryder, originated the practice of buying fleets of trucks using the trucks themselves as collateral. He later formed Ryder Truck Rentals. Great Southern went out of business following the deregulation of the American trucking industry.
This Truck continued its life in the 60's in southwestern Colorado, pulling an end-dump trailer for a construction company. Except for minor modifications to the brake system, it was almost original. The mileage is unknown, but the high-milage wear areas are absent.
The truck was purchased in the early 1990's by Bob Johnson while stationed in Colorado and in the summer of 1992 he moved from Colorado Springs to Toronto, Canada and brought this truck he calls 'James', a 42' trailer loaded with a Federal truck, his car and other equipment with him. The outfit weighed over 35,000# on the scales. The trip took 6 days, repair costs were $0.15.
Somehow the truck ended up in Avon, Ohio where I bought it and had it trucked to its new warmer home in California.