R. C .Wells & Son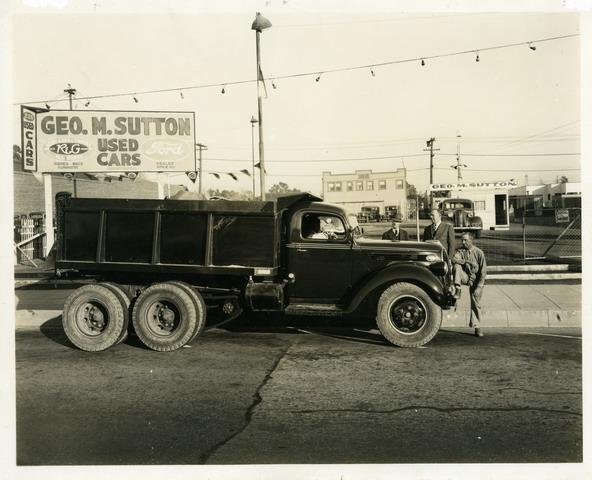 ---
R. C. WELLS AND SON INGLEWOOD, CA.
---
R. C. Wells was my Grandfather, And Son was my Dad, Gordon Wells. I am the third generation from Inglewood. My Grandmother Mary was born in Inglewood in 1889.
My Grandfather Ralph started in the sand and rock business (Inglewood Sand And Rock) delivering with a horse and buggy & unloading by pulling floor boards one at a time. Later he invested in a dump truck putting the other horse and buggy entrepreneurs out of business. I'm told my grandfather was about to go broke when my Dad joined him in the 30's with the purchase of additional trucks for hauling for the Government WPA Program.
They owned a variety of trucks - Reo's, Fords, etc. My Grandfather was known for going around one particular curve too fast and tipping over the trucks. Fortunately, the only injuries he suffered were from my Grandmother (a much larger person) landing on him.
My Grandfather died in the early 40's and my Dad started a paint, hardware and building material store in 1944. I started working for him at the age of seven, dusting shelves, stacking firewood and filling glass bottles with paint thinner and lacquer thinner for retail sales (I believe they now call these Molotov Cocktails). I was loading sand and rock with a skiploader at approximately the age of nine. I would ride with the delivery drivers and by the age of twelve they would let me drive (unbeknown to my Father) while they slept.
I always wanted to persue the front end and wheel alignment business but at the age of 19 I married and went to work driving for my Dad.
When my Dad sold his business and property in 1968 I was able to lease some of the property and started Quality Equipment Rentals which I still operate today.
I currently own thirten old trucks and two cars. I've had my 1st truck, a 1932 Ford One Ton Express, for over 30 years. I joined ATHS in approximately 1988. Diann and I attend most of the truck shows in CA and some of the National Shows.
DENNIS AND DIANN WELLS